Industrial Projects
Our implementation of a full service construction philosophy ensures total customer satisfaction from project conception to completion.
Agrium Fertilizer Tower (Re-cladding project)
Cladding, insulation and sign installation to a tower with limited and complicated access.
Canadian Natural Resources Ltd. Horizon Dyke Shop
Supply and install metal decking, metal cladding and insulation for a 10,000 sq. ft. industrial building.
PCS Rocanville West
A site wide cladding project for the Main Mill Expansion with a unique 'candy cane' stripe pattern.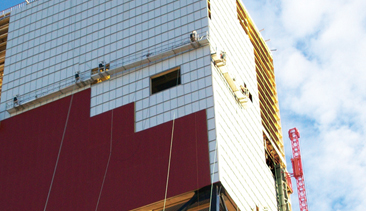 PCS Rocanville Headframe No. 2
Installation of building envelope on a new headframe penthouse with high-risk work fronts of over 110 meters in the air.
Shell Waterton Plant Abatement
This large $3 million industrial job included asbestos removal and cladding.
Strike-Cenovus Pipe Rack Mods
Insulation and cladding of 12 pipe rack modules using mineral wool and Foamglas pipe cover complete with removabale blankets on valves.